Hard ciders are almost always gluten-free. Most of the leading cider brands are confirmed to be gluten-free. There are however some exceptions. Some ciders such as Hornsby's and Harpoon contain trace amounts of gluten. This is usually due to the gluten-based yeast they use to ferment the cider. The gluten content in these ciders have been measured at less than 20 parts per million, which meets the FDA's proposed threshold for gluten-free, so they tend to be alright for the less sensitive, but still are not entirely free of gluten.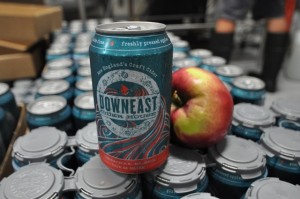 The Cider brands that are confirmed to be GF include Woodchuck (one of my personal favorites), Woodpecker, Crispin, Angry Orchard, ACE, DownEast. 
Celiac Disease is a digestive condition triggered by consumption of gluten, which is in foods containing wheat, barley, rye and sometimes oats. Therefore, most beer is undrinkable for people with gluten sensitivity. That's why it is great to see the amount of cider choices ever expanding!
For more Gluten Free Options check out the post from our friend the Meadist: Best Gluten Free Alternatives to Beer