The american thirst for cider continues to grow. According to Impact Databank, which tracks alcohol industry data, the top 10 cider brands in the U.S. as a whole grew by 62% in 2012. These figures have definitely caught the eye of the major Beer companies.
Whether or not this is a good thing for the craft cider industry is up for debate. What it does show is that cider is here to stay and the industry will continue to grow. With the new massive marketing budgets and extensive distribution reach behind some of the brands now, cider will be on the tops of more people's minds and on the shelves of more liquor stores and supermarkets. This broader awareness should be able to help the big and small companies alike.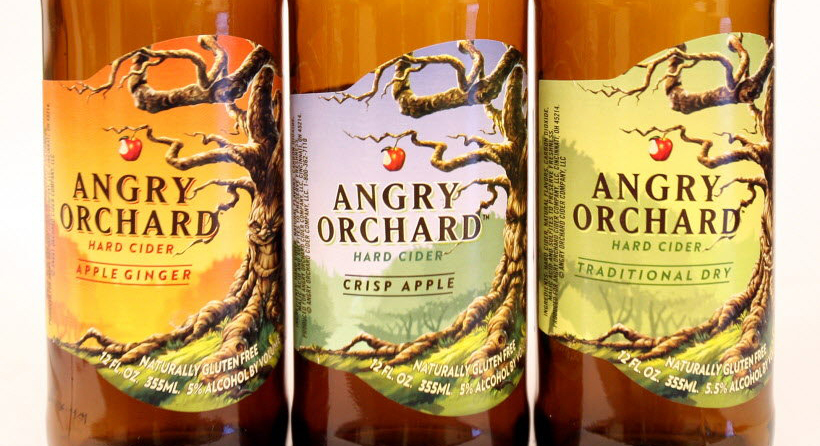 Here is a List of the Ciders owned and distributed by the Big Beer Companies
Angry Orchard is a Boston Beer Company brand along with Samuel Adams and Twisted Tea. They offer three standard ciders – Crisp Apple, Traditional Dry, Apple Ginger, and several seasonal varieties. They have also recently launched a "Cider House Collection"
Crispin was started in 2008 as a dry alternative to the sweet ciders on the market. MillerCoors purchased Crispin in early 2012 to get a piece of the cider industry growth. 
Johnny Appleseed is a new offering from Anheuser-Busch InBev focused toward the younger demographic of drinkers aged 21 – 27. A demographic their Stella Artois Cidre is missing.
Though they have Crispin, MillerCoors launched Smith & Forge to capture the younger demographic from Boston Beer Company's Angry Orchard. They made this masculine brand and a less sweet cider to get young bros drinking cider.
The Craft Brew Alliance, which produces Widmer Brothers, Redhook and Kona beers, launch its Square Mile Cider Company in 2013. Square Mile is based in Portland, OR and primarily distributed on the west coast.
Well, no surprises here. Stella Artois is distributed by Anheuser-Busch InBev and the Cidre is the "premium" offering to cider drinkers.
Heineken added Strongbow to its portfolio after getting the rights from C&C group to distribute it in the US.
I guess it's not a "Big Beer" company that owns Woodchuck – more a "Big Cider" company. C&C Group, the Irish based company behind Magners acquired Vermont Hard Cider Company, makers of Woodchuck.
Hornsby's Cider was first produced in 1993 by Ernest and Julio Gallo winery in Modesto, California. C&C Group acquired the cider brand in 2011 and it now operates under the Vermont Hard Cider Company.
What do you think? Is it a good or bad thing having the big corporations jumping onto the cider train?