Growlers are hot these days. With the craft beverages booming, its hard to keep up with the all the new, fresh batches coming out. A lot of times those new batches only come out on tap – so to get that beer back home you need a growler. Here are some hot growlers you'll be proud to fill with your favorite cider.
A very cool stainless steel  growler in several different stylish, glossy colors. It has sleek lines by removing the traditional growler handle. I mean who uses that handle anyway? Go with Autumn Orange color – great for cider!
This is a badass growler. Made in Portland Oregon, these growlers are slip cast by hand with the necks carefully trimmed on the potters' wheel for the tightest of lid fit. The sprocket handle adds a unique touch.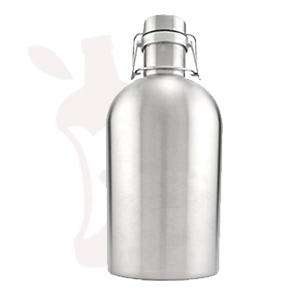 Simple Stainless Steel Growler
This unadorned stainless steel growler is all business. This is a great growler for cider drinkers looking for a more industrial look than the other two. The swing-top closure makes it all two easy to keep opening it up for more cider pours.